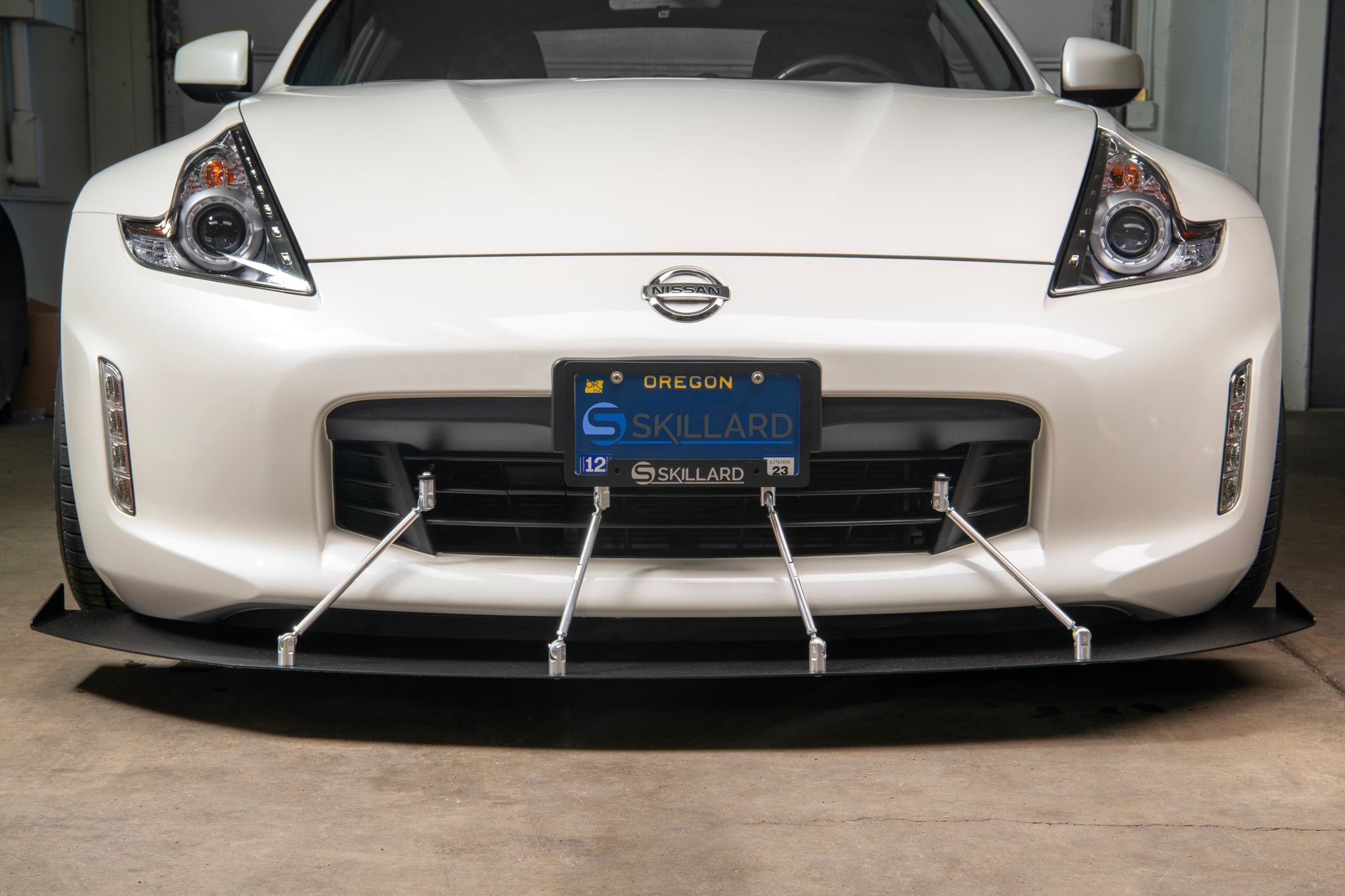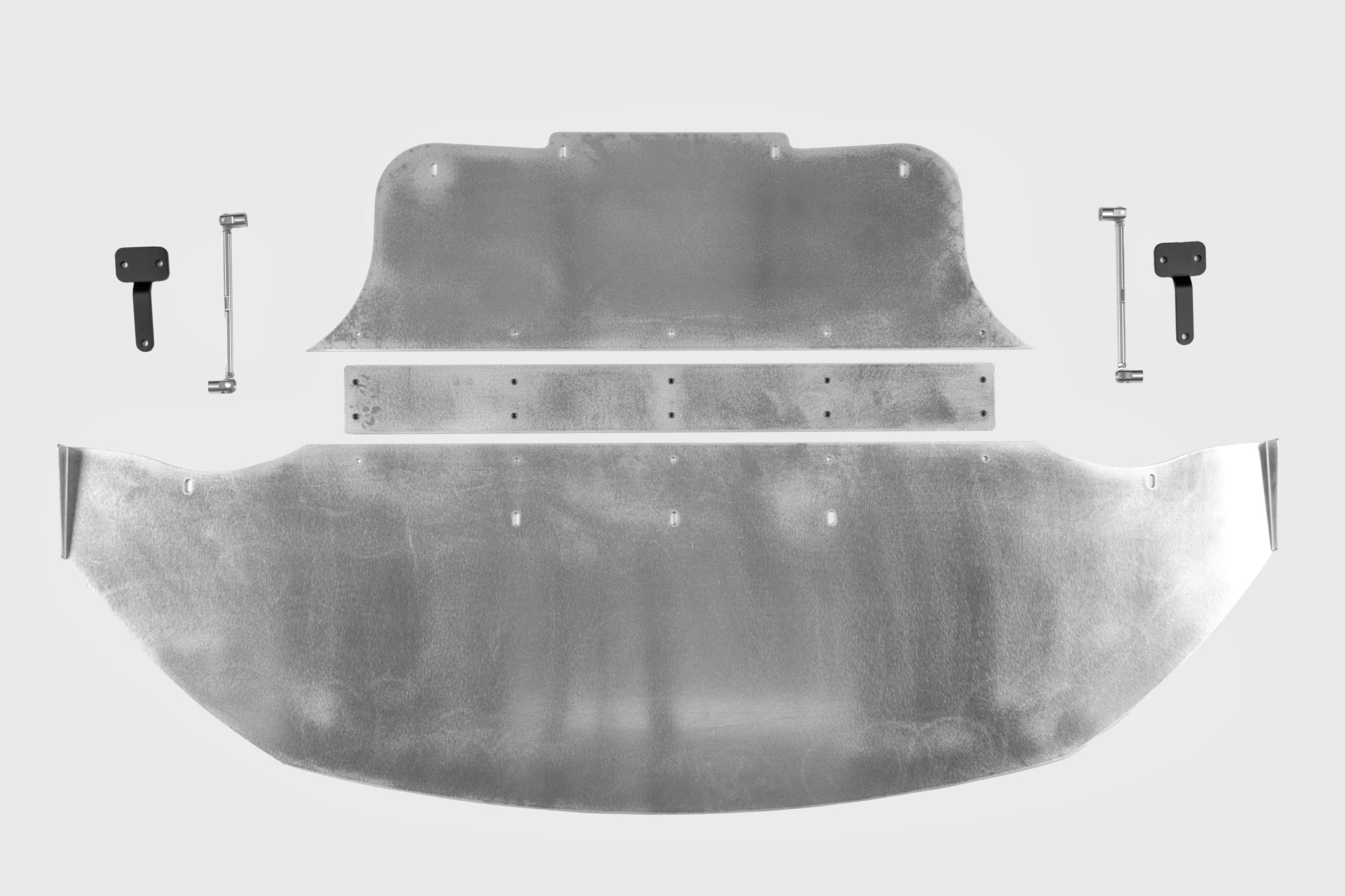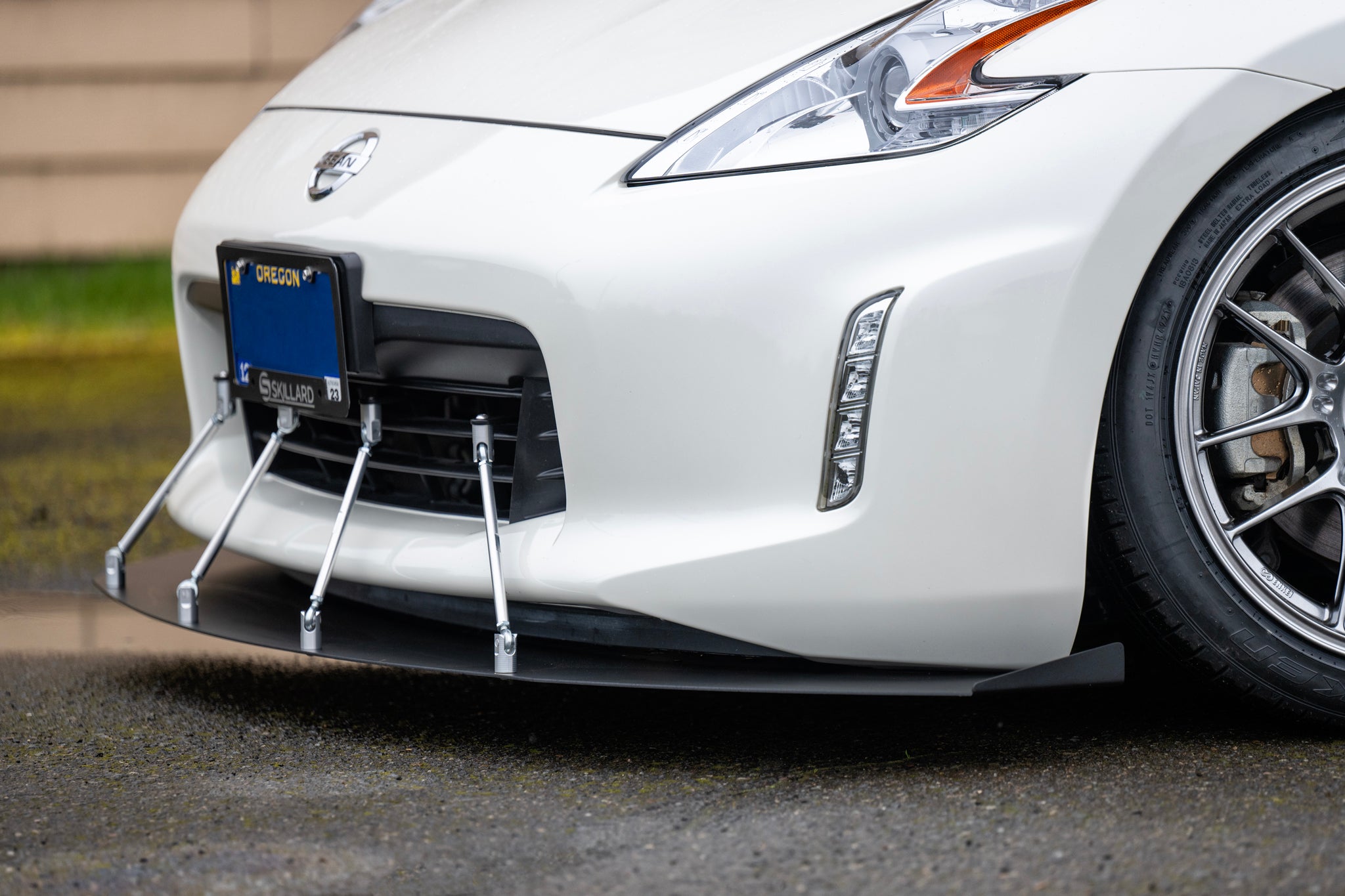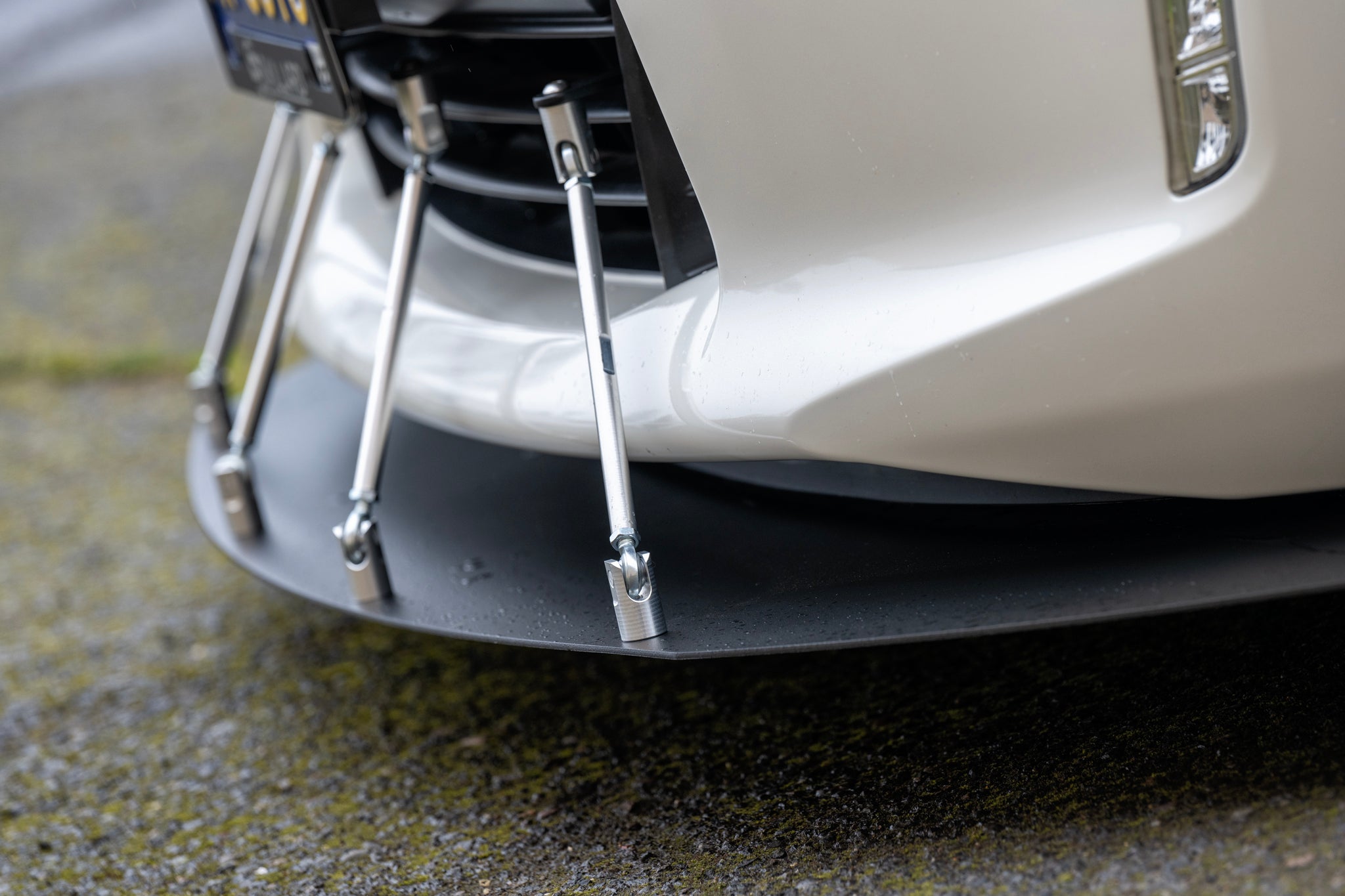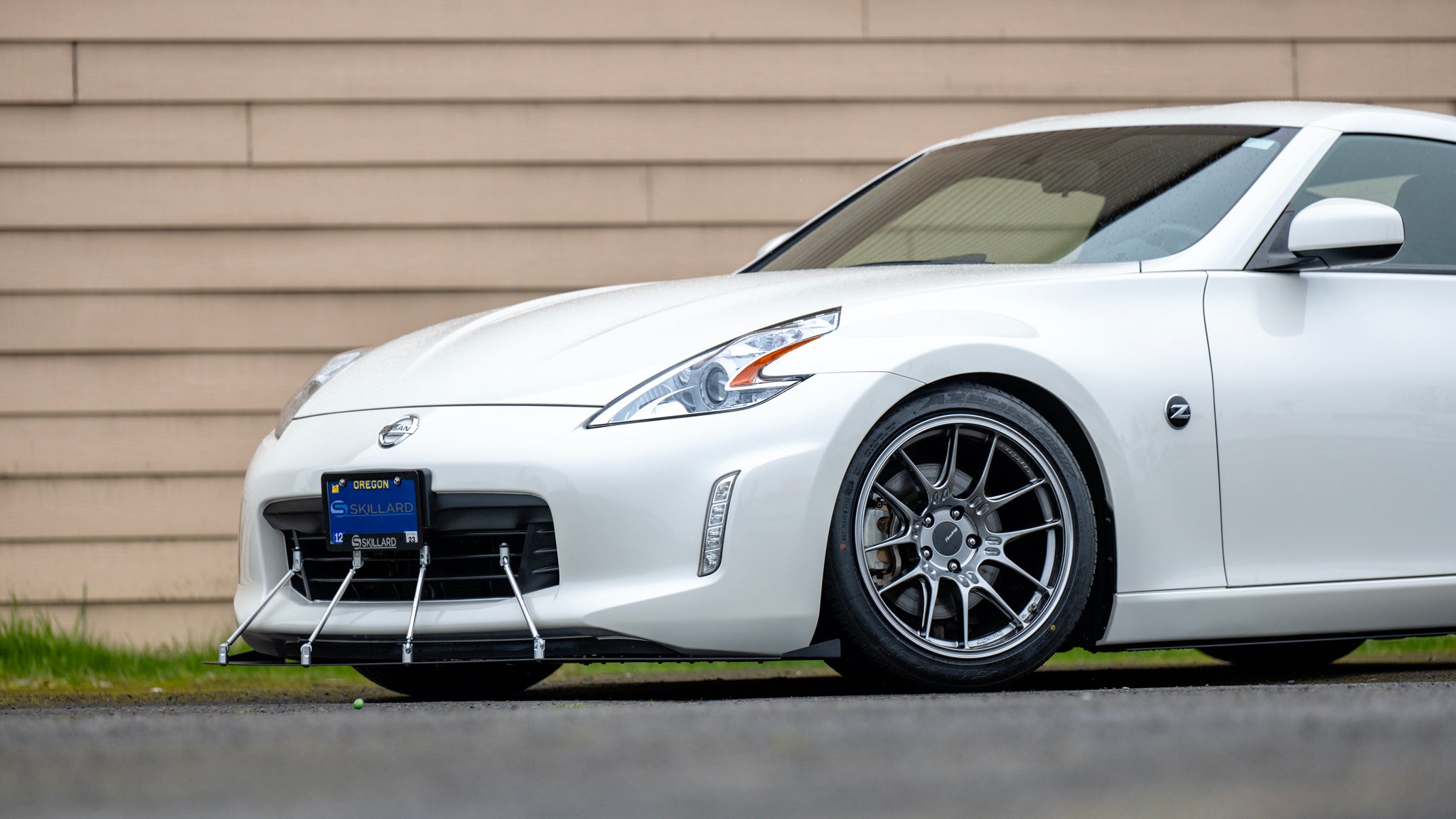 FRONT LIP SPLITTER | NISSAN 370Z
Splitter Support Rods & Mounting Brackets:
Splitter Support Rods & Mounting Brackets
Skillard's 370Z aluminum front lip splitter is CNC cut, formed and is 1/8" thick!
All mounting hardware is included as well as 3/16" steel splitter support rod mounting brackets that attach to the aluminum front bumper (see installation video below).
Often there is no good way to mount the front support rods to something solid (you may see people mounting them to the plastic bumper cover), so we have provided a solution.
The kit comes with two (2) rod brackets and two (2) beautifully crafted 12-13.75" splitter support rods. We prefer to use a total of four (4) rods and brackets, so there is an option in the drop down menu to add a second set of brackets and a second set of support rods that are 10.25-12" long, in case you are also inclined to have four (4) total support rods.
This splitter is nice and flat on the entire bottom side to limit turbulent air as much as possible. Our design also comes in two pieces, allowing for removal of the rear section for quick and easy oil changes. 
NOTE: This part is not compatible with the 370Z Nismo.
Air hitting the front of the car goes up and over, through the engine bay, and down and under the car. The splitter BLOCKS that air from turning downward — that downward moving air hitting the splitter helps add downward force to the front of the car, reducing front end lift and increasing front end traction, and results in LESS air going under the car, which helps with downforce as well. The fact that the splitter extends back almost 3 feet, resulting in a smooth front undercarriage, also helps with the downforce equation (notice that almost all professional high-speed race cars have an underbody that is as smooth as possible and many even run front splitters). 
Check out the full line of Skillard parts for the Nissan 370Z.
Rivnuts will need to be installed. See our rivnut installation video below.
* Many of our products are in-stock. However, because all of our products are custom fabricated, they may not be immediately available. Products that are not currently stocked may take 3-4 weeks from when your order is placed to when they're available for shipping. If you want to know the availability of this item, please email Sales@Skillard.com.
Thanks for visiting Skillard.com, home to custom Z car parts. Find what you need to build your vision!